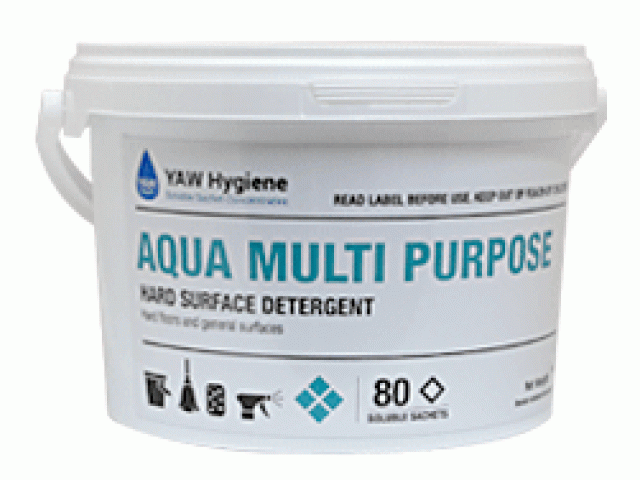 YAW (You Add Water) Aqua Multi-Purpose Cleaner (80 Satchets)
---
YAW (You Add Water) is water soluble cleaning sachet/tablet concentrate - simply take one sachet or tablet and add the stated amount of water. This simple process makes training staff and stock management easy and eliminates overuse through mixing incorrect quantities or using confusing ratios (which is also cost effective).
YAW (You Add Water) concentrates reduce downstream waste costs bu up to 70% it is also easy to store which is a huge benefit when shelving is limited.
YAW Aqua Multi Purpose Cleaner is an effective cleaner for heavy traffic areas which emulsifies oil, grease, and dirt leaving a stain and smear free finish. Formulated for most modern, washable surfaces such as walls, floors, tiles, etc
*Pre-measured Dosage (no dispenser required)
*Concentrated Soluble Satchet Technology
*100% Biodegradable
*80 sachets per Tub
1 TUB MAKES UP TO 800L OF READY-TO-USE SOLUTION
1x AQUA MULTI PURPOSE CLEANER satchet makes up to 10 Litres of ready to use cleaning solution
EASY OT USE: Simply drop one AQUA MULTI PURPOSE CLEANER sachet into a bucket and fill with 10 Litres of warm-hot water, agitate the solution with mop and apply to floor.