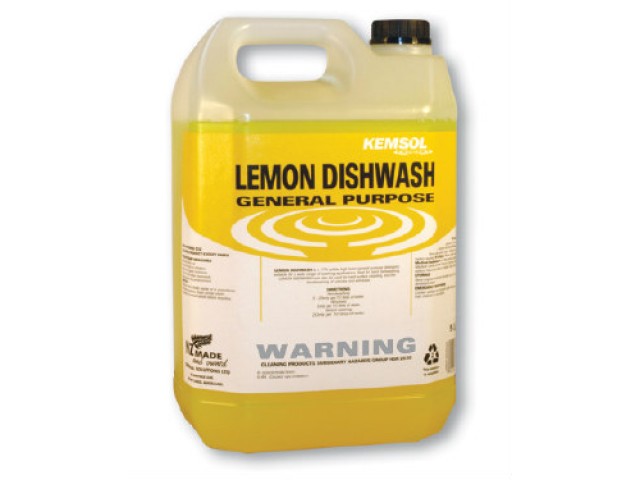 Lemon Dishwash Detergent 5L (FS01)
Code: WCLEMD
Dimensions: 5 Litre
Unit: Each
---
Lemon Dishwash Detergent (General Purpose) 5L
Med-high foaming general purpose biodegradable hand dishwashing detergent, suitable for a wide range of washing applications. Ideal for manual dishwashing but can also be used for hard-surface cleaning and the handwashing of vehicles and windows. Septic tank safe, when used as directed.
Directions:
Manual sink washing: Use at a ratio of 1:500 (0.25% soln, 25mls per 10ltrs) in warm potable water (more or less depending on soiling levels).
Hard surface applications: Use at a ratio of 5 to 30mls per 10 litres of water, depending on the level of soiling.
Window cleaning: Use 5mls per 10 litres of water. Spray onto windows and wipe with clean paper towel.
Vehicle washing: Use 20mls per 10 litres of water. Sponge onto vehicle and rinse with water.
Domestic and Commercial Use
Long Lasting Bubbles
Mild pH
Soft & Gentle on Hands
Ready-to-use
Cuts through Grease and Oil
Quick Streak-Free Drying
NZFSA APPROVED C32
Properties
Appearance: Clear yellow liquid
Fragrance: Mild lemon
Specific gravity: 1.02
pH: 8.0 (100%)